We are proud to announce that "The Last Mile" workshop and hackathon is under way! With "The Last Mile," The Brown Institute and the UNDP have partnered to address climate change. "Innovation, out-of-the-box-thinking, big ideas, and smart applications of technology have the potential to significantly impact the way weather information is shared across Africa," said UNDP Programme Manager Bonizella Biagini.  "In a world where information is power – and climate change is producing more severe storms and temperature fluctuations that affect vulnerable African communities – access to accurate and timely weather forecasts can work toward reducing poverty, empowering rural communities and saving lives."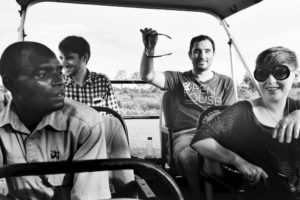 The Brown Institute has sent four members to help facilitate. Deputy Director Michael Krisch and 2015-2016 Magic Grantee Allison McCartney (pictured above), 2014-2014 grantee Caelainn Barr and Francesco Fiondella from the IRI at Columbia.
The Climate Action Hackathon will continue through March 17, and participants have access to leaders in meteorology, technology, sustainable development and communications. They will work individually or in teams to create mobile applications, technology solutions or data-crunching systems that address Africa's persistent challenges in adapting to climate change, and sharing early warnings and accurate climate information across the continent.