Reframe Iran is a virtual reality experience taking place in eight Iranian artist studios throughout the United States, Canada, and Europe. With a Gear VR headset, the user will be up close and personal with internationally acclaimed artists such as Shirin Neshat and Parviz Tanavoli. The narration and music for this experience are both minimal, allowing the user to feel like they are dropping in on some of the artists' most intimate moments– while they are working – or behind the scenes of a conversation with our team. While the user visually investigates these studios, a cohesive story emerges through narration and interviews about Iranian identity and the heavy burden these artists carry to represent Iran while living simultaneously in exile from their country.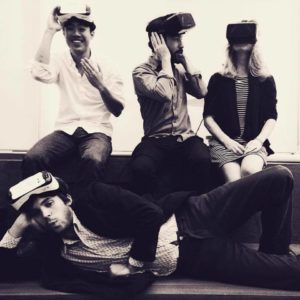 Reframe Iran is one of 19 VR videos awarded "Official Selection" at the 2016 Kaleidoscope World Tour. The event, produced in association with WIRED, is a "traveling showcase of the best in cinematic virtual reality & immersive experiences." The tour will take the winning videos to 10 cities around the world.
Reframe Iran received a Magic Grant from the Brown Institute for 2014-2015. The core group – João Inada, Alexandra Glorioso, Matteo Lonardi and Matt Yu – applied for their grant while they were graduate students. Inada, Glorioso and Lonardi were journalism students at Columbia and Yu was (and still is) a PhD candidate in electrical engineering at Stanford. They wanted to understand the connection between media narratives about an isolated country – Iran – and their effect on the public's perception of that country through its demand for art. Later, a former classmate, John Albert joined their team and Reframe Iran was born. Currently, Albert is working for McClatchy News in Kansas, Inada and Lonardi are working as video journalists for Culturerunners, Glorioso is working at a the Center for Responsive Politics in DC and Yu is finishing his PhD.
Congratulations to João, Alex, Matteo, Matt and John!