Book Launch of Habeas Data by tech reporter Cyrus Farivar in conversation with Alex Abdo, Knight First Amendment Institute
May 1, 2019 @ 7:00 pm

-

8:30 pm

EDT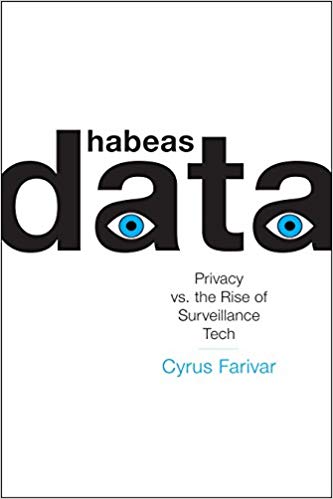 Join award-winning tech reporter Cyrus Farivar for a book launch of Habeas Data: Privacy vs. the Rise of Surveillance Tech. Farivar will be joined by Alex Abdo, Litigation Director for the Knight First Amendment Institute at Columbia University, who will respond to the book and moderate conversation on the topic of data and privacy.
You are being watched. Whether through your phone or your car or your credit card, caught on a CCTV camera or tracked through your online viewing history, government agencies know where you are, and are quietly collecting your most intimate, mundane, and personal information. Is this even legal? Habeas Data shows how the explosive growth of surveillance technology has outpaced our understanding of the ethics, mores, and laws of privacy.
Farivar makes the case by taking ten historic court decisions that defined our privacy rights and matching them against the capabilities of modern technology. It's an approach that combines the charge of a legal thriller with the shock of the daily headlines.
A dazzling exposé that journeys from Oakland, California to the halls of the Supreme Court to the back of a squad car, Habeas Data combines deft reportage, deep research, and original interviews to offer an X-ray diagnostic of our current surveillance state.
---
About Cyrus Farivar
Cyrus Farivar is an investigative tech reporter at NBC News in San Francisco. In addition to being a radio producer and author, Cyrus was most recently a senior tech policy reporter at Ars Technica. He was also previously the sci-tech editor and host of "Spectrum" at Deutsche Welle English, Germany's international broadcaster, from 2010-2012.
Cyrus is the author of multiple books, including Habeas Data (2018) and The Internet of Elsewhere (2011). Praised by The New Yorker, among others, Habeas Data takes a look at legal cases that have had an outsized impact on surveillance law in America. His first book focuses on the history and effects of the Internet on different countries around the world.
He received his B.A. in Political Economy from the University of California, Berkeley and his M.S. from the Columbia University Graduate School of Journalism.
About Alex Abdo
Alex Abdo is the litigation director at the Knight First Amendment Institute. Prior to joining the Institute, he was a senior staff attorney at the ACLU. He has been at the forefront of litigation relating to NSA surveillance, encryption, anonymous speech online, government transparency, and the post-9/11 abuse of detainees in U.S. custody. In 2015, he argued the closely watched appeal that resulted in the Second Circuit invalidating the NSA's call-records program.
Abdo graduated from Yale College and Harvard Law School. After law school, Alex clerked for the Hon. Barbara M.G. Lynn, United States District Judge for the Northern District of Texas, and for the Hon. Rosemary Barkett, United States Circuit Judge for the Eleventh Circuit Court of Appeals.